Pete Mathews and MathewsBros have over 28 years of experience dealing with everything boat related. Due to this experience and the resources available to use, we feel comfortable tackling any boat project!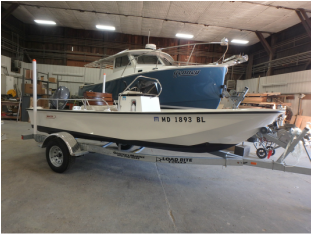 We all have a boat that possesses a special pull on our hearts. Whether it's time spent as a child with our parents on summer days, or continuing the tradition with our children, when we see that model and year we are transported back to those moments, even for a second. The problem with keeping boats for twenty to thirty years though, is that they age inversely to fine wine. Gelcoat and paint dull or crack, even the strongest caulk relents and lets water into places where it shouldn't be, and I don't think I need to say anything about maintaining mechanical components for longer than your kids live in the nest. But still, even all the headaches from frustration and the endless echoes of "Why don't you just buy a new boat?", you just can't seem to let her go. Here at Mathews, we're not going to tell you to buy a new boat, but we won't say driving your baby around with burnt through paint and a motor shaking a spongey transom is a good way to show her respect. We want you to stay in your boat, and be thrilled with how it looks and feels. We will get your baby turning heads and standing up to the utmost scrutiny of any connoisseur. So if you have one of these old family relics languishing in a dusty old barn, maybe it's time to bring it to Mathews Brothers. Be the envy of the creek and the boat club.
​Contact us today to start your new journey with an old friend.